Who
Bio
Jaxson Khan is CEO at Khan & Associates, a global advisory firm that helps innovative companies and organizations to build their influence. In the community, Jaxson serves as a host of the Ask AI podcast, a mentor with Techstars, an instructor at Product Faculty, an advisor to Century Initiative, and a member of the World Economic Forum. Jaxson previously served as Head of Marketing at Nudge.ai, a relationship intelligence platform and Canadian AI Company of the Year in 2018. Prior to Nudge, he led public relations at Influitive, managed business and product development at Paddle, and served in a change management role at Microsoft. Earlier, Jaxson co-founded Young Diplomats of Canada, an NGO that engages with the United Nations, World Bank, and G20, and he has represented Canada at global summits including in Istanbul, London, Washington, Kigali, and Azerbaijan. He served on advisory boards with AstraZeneca and The Globe and Mail and was elected as a student trustee to the Peel District School Board. Jaxson is a published author and speaker on technology, education, and policy, including with the International Economic Development Council and a TEDx talk. Jaxson graduated from Western University as a 3M National Student Fellow and one of Canada's Top 20 Under 20.
Appearances (Press / Articles / Speaking)
Upcoming
Note: I am living in South America for 2019, available for 1-2 speaking engagements per quarter if round-trip travel is included.
DMZ - April 8 - Entrepreneurship
Product Faculty - April 6 - Product Marketing Course
2018
Microsoft – Dec 11 – C-Suite Webinar on Digital Marketing & Sales
McGill Dobson Centre - November 30 – Entrepreneurship
Canadian Fintech and AI Awards - AI Company of the Year
SaaSNorth – November 28 – Marketing Panel
League of Innovators – November 13 – Building Resiliency as an Entrepreneur
Product Faculty – November 10 – Product Marketing
AskAI – November 8 – Moderator on AI and Healthcare
DMZ – November 6 – Startup Certified Marketing
Microsoft Vancouver – October 30th – AI, Business Relationships, and Future of Work
ElevateToronto – September 27 – Startup Talent Keynote
MaRs Discovery District – September 14 – Speaker at Mastering Growth Marketing
Young Diplomats of Canada – September 13 – Digital Diplomacy, Moderator
OneEleven – September 12 – Growth Marketing
HackThe6ix – August 26 – Startup Judge
Product Faculty – August 18 – Instructor, Product Marketing
StartupWeekend – June 23 – Mentor
DMZ – June 8 – Marketing Panel
If You Market Podcast – May 22 – Build Influencer Relationships
RightsCon – May 14 – Digital Human Rights Panellist
SiriusDecisions – May 7 – Summit
Ask AI Toronto – Apr 10 – AI & The Customer, Speaker
VentureBeat – Apr 7 – Influencer marketing in Enterprise AI
AA-ISP Chicago – Apr 3-5 – Leadership Summit
Techstars – March 16 – Go to Market Panel
University of Toronto – March 2 – Judge, Rotman Commerce Startup Pitch Competition
February 1-20 – Traveling
InsideToronto.com – January 30 – Rotary Club Youth Under 25 Award
Protohack – January 27 – Open Education Hacks, Mentor
Queen's University, Conference on Business and Technology – January 15 – Artificial Intelligence Panel Speaker
2017
Wealthsimple FinTech Hackathon – November 25 2017 – Target Alpha STC, Judge & presenter
DataMarketingTO – Presenter
MarketTO – November 2 2017 – Presenter
SingularityU Canada Summit – Oct 11-12 2017 – Volunteer facilitator
Entrepreneurship Week – Sept 29 – Judge
International Economic Development Council, Annual General Meeting – September 18 2017 – Entrepreneurship & Innovation, presenter
Elevate Toronto – September 13 2017 – Workshop facilitator
International Economic Development Council Journal – July 2017 – Urban Tech Sector Growth Drives Economic Resilience
World Economic Forum, AI Session – July 2017 – Barrick Gold, 5 Things We Learned from Artificial Intelligence
Venture for Canada – April 2017 - How to Hack Influence
Toronto Learning Night – Apr 2017 - How to Hack Influence
Western Gazette – Apr 6 2017 - Western alumni leads young leaders summit
Safe City Mississsauga & Status of Women Canada – Mar 24 – Leadership and political change
Ryerson University – Social Ventures Day – Jan 28 – Next 150 years in Canada
2016
Canadian Association of Marketing Professionals – Nov 30 – Hacking PR: Media, influencers, and thought leadership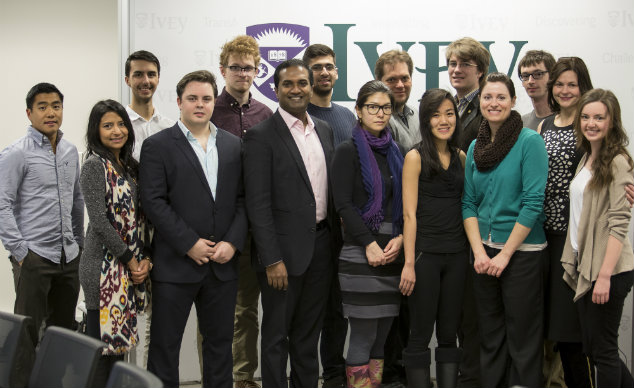 2014
Young Health Program - Dec 4 - Youth Voices: The role of youth-adult dialogue in improving health outcomes for young Canadians
University of Toronto - Nov 21 - Political Opportunities for Youth: How to Get Involved
First Global Forum on Youth Policies - Oct 27
2013
The Globe and Mail – November 26 – Why government in the North needs youth voices
Western University – November 21 – Trio hope to parlay northern exposure into action
The Mississauga News – November 8 – North meets south on youth Nunavut expedition
Peel District School Board at the H.J.A. Brown Education Centre – Oct 15 – Keynote, Student Leadership, Networking, Personal Development
Teach Thought – August 9 – The Adaptive Learning Technology One Company Depends On
Youth Policy – July 25 – Malala Day: What's next?
The Globe and Mail – July 14 – What a young Canadian heard when Malala spoke
Daily Edventures – June 17 – Interview with Anthony Salcito, VP, Microsoft
The Mississauga News – May 27 – Three Mississaugans chosen for G8 Youth Summit
The Globe and Mail – April 26 – Who's missing from the education equation? Students
Techonomy – April 22 – Student Activists Want Schools To Teach Entrepreneurship
TakingItGlobal – April 17 – TDSB Professional Development Course: Student Voice in the Classroom
Dell Education – April 15 – Students As Influences in Education
Student Voice Live! in New York City – April 13 – Keynote, Student Voice and Education in the 21st Century (sponsored by Dell)

Panel on Education and Entrepreneurship
Panel on Personalized Learning

Huron University College Grapevine – February 18 – Shake the World Conference Inspires
Huron University College in London – February 8 – Keynote, Shake the World
One Young World – February 8 2013 – Ambassador Actions
One Young World – February 8 2013 – Transcending Borders With Social Media
Appleby College in Oakville – January 25 – Global Leadership Education Seminar
2012
Homelands Public School in Mississauga – December 20 – Youth Activism and Volunteerism
Western University - Newsmakers 2012 – December 13
One Young World Ambassador (AstraZeneca) – Interview – November 28
Huron University College in London – October 24 – Born This Way, Bullying Prevention and Equity
Huron University College - Interview – July 18
Rogers TV - DayTime – June 21 2012
Richard Ivey School of Business – June 21
Western University – June 21
London Free Press – June 18
Western University (General) – June 7
Mississauga News – June 7
2012 Top 20 Under 20™ Award Recipients – June 7
Huron University College – June 6
The Globe and Mail – June 6
Mississauga Youth Achievement Awards – May 6 – Keynote, Youth Activism and Volunteerism
2011
Summit for the Coalition for Children and Youth Mental Health in Toronto – June 2 – Student Charter of Rights: Mental Health and Well-Being
Ontario Teacher's Federation in Toronto – July 21 – Panel on 21st Century Education and Technology
Peel District School Board in Mississauga – January 25 – The Art of Wow
2010
Peel District School Board in Mississauga – November 19 – Keynote, Leadership Now!
Testimonials
TEDxEdmonton
In 2014, our team at TEDxEdmonton had the pleasure of seeing one of Canada's most outstanding emerging leaders, Jaxson Khan, speak to a crowd of over 400 people. One of the youngest speakers in our event's history, Jaxson delivered, speaking with poise and passion, showing us why our country's future is in good hands. Emerson Csorba, Chair

Queen's Conference on Philanthropy
Jaxson contributed significantly as a panelist at QCOP, using his experience in a variety of endeavours, and interacted well with the other panelists to bring a meaningful discussion to the delegates.Heather Evans, Conference Co-Chair

McMaster Student Leadership Conference
Jaxson spoke at the McMaster Student Leadership Conference in January 2014. His delivery was engaging and fresh and rather than speaking "down" to students, he spoke "with" them. The global experiences he shared left students inspired and with the motivation to "care to catalyze change in their community". Thank you Jaxson for exciting our students to reach out and change the world that they live in. Anna D'Angela, McMaster Students Union

Appleby College Global Leadership Seminar
Jaxson spoke with a select group of grade 12 students pursuing the Appleby College Diploma with Distinction in Global Leadership about the power of youth to affect real and meaningful change in their communities. Drawing from his own experiences, he offered practical strategies for implementing plans of action and tips for overcoming roadblocks along the way. Jaxson was a dynamic speaker and strong facilitator who engaged his audience and strived to connect with each individual in the room. Rob McGuiness, Assistant Head of School, Global Education, Appleby College
---
What
Invite me to write or to speak. I also offer virtual consulting via Clarity.
---
Where
I am based in Toronto, Ontario, Canada.
Follow me on Twitter or connect with me on LinkedIn.
Please contact me via email.